Injured at Work? Consult a Workplace Injury Lawyer in Upper Marlboro, MD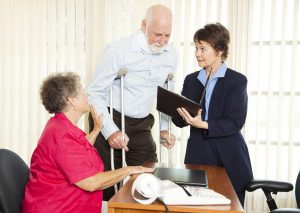 Maryland's workers' compensation system is very complex. Some claims have actually taken years to settle after multiple hearings. Assistance from an experienced workplace injury lawyer in Upper Marlboro MD will make it considerably easier for an injured employee to successfully navigate the workers' compensation system.
Injured workers often ask some of the same questions.
Does Every Injury at Work Entitle a Worker to Workers' Compensation Benefits?
No. In Maryland, an employee must have suffered an accidental injury or occupational disease because of their employment in order to be qualified to receive workers' comp benefits. That sounds fairly straightforward, but it's not. For example, an independent contractor would not be entitled to workers' comp but, in certain circumstances, the law could decide that an injured independent contractor was actually an employee and thus entitled to benefits.
Is an Attorney Required?
No. An injured worker is not required to have an attorney. However, the worker will be opposed by considerable obstacles and red tape and will find the experience of an attorney very helpful.
Can the Employer be Sued at the Same Time a Workers' Compensation Claim is in Progress?
It's not generally possible to pursue a lawsuit and a workers' comp claim at the same time. For workplace injuries, a workers' compensation claim is the only remedy available to the injured employee for payment of medical expenses, lost wages, and permanent injuries. There can be some exceptions to this rule, so it's advisable to discuss your particular situation with a knowledgeable workers' compensation attorney.
Won't My Employer and the Insurance Company be Looking Out for My Best Interests?
Usually, the employer's insurance company will be making most of the decisions regarding payment of the claim. The employer's attorney may also be making recommendations regarding whether to pay or deny the claim. It's entirely possible that the insurance company, the employer, and the employer's lawyer will all work together opposing the rights of the injured employee.
Won't My Employer File a Workers' Compensation Claim for Me?
It is the worker's responsibility to notify the employer and to file the workers' compensation claim within the legal time limits.
When you need an experienced workplace injury lawyer in Upper Marlboro MD, contact Danny R. Seidman. He dedicates himself to obtaining the best possible results for his clients. Browse our website to make an appointment and receive the compensation you deserve.